Profile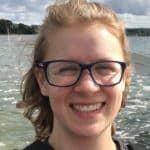 Alannah McDonnell
Scientist ID
Type of scientist:

Medical Student

Degree(s) and where you obtained them:

Currently 4th year of Medicine NUIG

Qualifications:

Currently 4th year of Medicine NUIG

Research/Work History:

I've been with the Red Cross since I was 12

Current Job:

An undergraduate student

Employer/Lab group:

I'm a 4th year medical student hoping to do Emergency Medicine once I graduate.

CE team:

NUI Galway

Volunteering since…

2016

Favourite thing about being a Cell EXPLORER volunteer:

answering all the interesting questions we get from kids, sometimes I have to go and research something because they might know more than I do!

My best tip for extracting DNA:

Patience! When you're using the loop to scoop the DNA out of the tube, you need to be patient and take your time, too much movement can make the DNA dissolve back into the solution!
About Me: I'm a 4th year medical student hoping to do Emergency Medicine once I graduate.

Read more

I've been living in Galway City since I was born. I love reading and recently have started doing a lot of arts and crafts in my spare time. I love to go swimming in the sea in Galway, and try to get out at least once a week (although it can be hard sometimes with the weather in the west!) I'm an active member of the Red Cross and have a keen interest in Emergency Medicine.

My Typical Day: My typical day is spending time in the hospital in Galway and filling my time in the evening with study and friends.

Read more

I start every day with a bowl of shreddies, my favourite cereal. Then I cycle up to college, it's always nice to start the day with some fresh air, even if it's raining! I then spend most of my day in the hospital, each day in the hospital varies so much because I'm working with different teams all the time. Sometimes we go to clinical meetings, where patients are discussed and decisions get made. Sometimes we're in outpatient clinics, when we meet the patients that don't need to go into the hospital but are still sick. Sometimes I get to watch some surgeries.

Why did you decide to study science/become a scientist?:

I only decided to try to do Medicine about 3 months before I applied. I've been a member of the Irish Red Cross since I was 11/12 and I always loved the idea of helping people get better.

What part of your own life experience gives you a unique view on your science work?:

In the Irish Red Cross as I was growing up I met so many amazing women who helped teach me that I could do anything I wanted to do. I've always had a wonderful support system of people around me. Now that I'm in the course there's such a big range of people to meet, I've made so many new friends from different places and I'm so lucky to have this opportunity.

Name 1 thing you struggled with in science and how you overcame it.:

I sometimes struggle with figuring out how really really small things work. I find it hard to learn and think about things that I can't imagine even how small they are. I love watching youtube videos to get a basic understanding of something before I start studying and researching it more. But really it's all about keeping calm and trying hard!

Quickfire Q/A questions

State 1 part of your job that requires creativity

Sometimes we present a case to our whole class, it can be a bit boring at times, so I love to make my presentations as interactive as possible! A "case" is basically when we follow a patient's story from when they come into the hospital until we find out what the problem is and try to fix it, then hopefully send them home. We also need to "think outside the box" when coming up with diagnoses for patients.

Give 1 example of how a hobby/personal interest relates to science

Painting can help you to refine your "fine motor skills", this means how good you are at doing really small tasks and controlling your hands. I paint in my free time, usually cartoon style paintings because I think it's easier! Fine motor skills will help me if I decide to do surgery after I graduate, or if you meet a patient with something small like a splinter, it's easier to take out!

How would you describe yourself in 3 words?

Arty, Energetic, Outgoing.

Who is your favourite singer or band?

dodie

What's your favourite food?

Anything sweet – especially chocolate or marshmallows (or both!)

What is the most fun thing you've done?

Gone white water rafting in slovenia

What did you want to be after you left school?

A doctor

Were you ever in trouble at school?

I always used to get in trouble for talking too much!

What was your favourite subject at school?

English!

What's the best thing you've done as a scientist?

I think sharing my knowledge with people around me

What part(s) of your job makes you happy?

Meeting new people and hearing their stories!

What or who inspired you to become a scientist?

The Irish Red Cross

If you weren't a scientist, what would you be?

I think I'd be in marketing

If you had 3 wishes for yourself what would they be? - be honest!

I'm always wishing that I'll pass my exams at the end of each year. I wish that I had a (eco-friendly) private jet, so I could go on holiday whenever I wanted.

Tell us a joke.

How do you tell if a vampire is sick? By how much they are coffin. (lol)

My profile link:
https://cellexplorers.imascientist.ie/profile/alannahmcdonnell/
---
---
---