Profile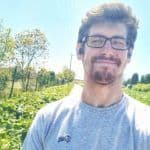 Criodán Ó Murchú
Your Scientist ID:
Type of scientist:

Chemist

Degree(s) and where you obtained them:

Bachelor of Science in Chemistry, NUI Galway

Qualifications:

B.Sc in Chemistry

Research/Work History:

My final year project was based upon the Royal Analysts Competition which aims at testing young people's chemistry ability across Ireland and the UK.

Employer/Lab group:

CE team:

NUI Galway

Volunteering since…

I think it's around 2017 some time, however it wasn't until 2018 that I got properly involved

Favourite thing about being a Cell EXPLORER volunteer:

I love working with young people and helping them connect the dots between things in "real life" that they see every day and the science behind those things.

My best tip for extracting DNA:

Be patient! It is better to do it right than to do it first.
About Me: A chemist with a passion for teaching who also loves music, drums, books, and dogs.

Read more

I'm from Mullingar, Co. Westmeath and started studying Chemistry in NUI Galway in 2016. I'm really into music, especially rock music and I've been playing drums for about ten years now. In my spare time, I love to volunteer, and I work with a few amazing groups around Ireland. I like sport too; I love running and cycling. Most of my spare time at the moment is keeping my dog, Major, occupied. This is great though, as it gives me loads of time to listen to podcasts about news, politics, and disaster stories from around the world. I'm incredibly into Formula 1 as well, which I've been watching since I was a few days old. I love the science and engineering that goes in to making it all possible.

My Typical Day: Attending lectures, reading, researching, exercising and relaxing.

Read more

I normally walk to college or will cycle if it's not too windy or rainy out. I normally have lectures in the morning for a couple of hours, then I'd get some lunch with my friends before heading to the laboratory. Depending on the day, I may be reading and researching or conducting experiments. I try to make sure I'm home before 6pm every day, to make sure I have some time for myself. Often, my housemates and I will eat dinner together and then I'll head out for a walk and listen to a podcast. If I've any assignments or homework, I'll work on them then before reading for a bit or watch something with my housemates.

Why did you decide to study science/become a scientist?:

From as early as I can remember, I was always curious about the world around me. I used to have this amazing physics encyclopaedia and it explained loads of things about the world around us. I always wanted to learn more and I figured science was the best way to do that. When I figured out that I enjoyed explaining how things worked, it made me consider teaching more and more.

What part of your own life experience gives you a unique view on your science work?:

Realising there is a massive issue with gender equality, especially within science, makes me want to work on that daily. I want to go into science education to show people that science is for everyone and that it's ok to be interested in it. Very early on in schooling, it seemed that girls and boys were somewhat innocently directed into different areas and I think that's wrong. Girls were encouraged to think about things like nursing and being a mother, whereas boys were encouraged around farming and engineering. ​Everyone should be given the opportunity to do what interests them the most: girls can study farming or engineering or nursing or childcare and boys can study them all too! Everyone is capable of learning and understanding the world around them.

Name 1 thing you struggled with in science and how you overcame it.:

Science involves using maths a lot of the time. This shouldn't be a scary thing, but I have trouble with using some maths formulae and equations at times. I just have to remind myself to be patient and ask for help from others.

Quickfire Q/A questions

State 1 part of your job that requires creativity

Developing experiments means trial and error. If something goes wrong, you have to work through the procedure step by step to see where you may have gone wrong. From here, you may need to try something new and inventive to get the experiment to work.

Give 1 example of how a hobby/personal interest relates to science

I love exercising and I find it really interesting to think about how the food I eat is converted into energy which then fuels my exercise. I find it incredibly interesting to think about how I use this energy to move my legs, which moves my pedals, which turns the wheels of my bike.

How would you describe yourself in 3 words?

Hard-working, restless and analytical

Who is your favourite singer or band?

Pink Floyd!

What's your favourite food?

Pizza, hands down.

What is the most fun thing you've done?

I love rollercoasters so I would say spending days at theme parks is way up there!

What did you want to be after you left school?

I wanted to be a doctor initially but then decided to do science and see what areas interested me most.

Were you ever in trouble at school?

Only a couple times, it's safe to say I was a goody-two-shoes. I got detention once or twice for silly things but didn't cause too much trouble.

What was your favourite subject at school?

I loved Agricultural Science, as it was a fascinating blend of biology, chemistry, and physics.

What's the best thing you've done as a scientist?

Explain how the world around us works to people.

What part(s) of your job makes you happy?

I love seeing people understand something they didn't before. I love the "ah" moment on peoples faces when something is explained to them.

What or who inspired you to become a scientist?

Trying to help people and learn about the world around me. I would say my Dad encouraged my curiosity a lot.

If you weren't a scientist, what would you be?

I would probably work for a charity or in some educational role.

If you had 3 wishes for yourself what would they be? - be honest!

I would wish for an end to world hunger, affordable & accessible healthcare for everyone and free education forever.

Tell us a joke.

All of my good jokes Argon.

My profile link:
https://cellexplorers.imascientist.ie/profile/criodanomorchu/
---
---
---