Profile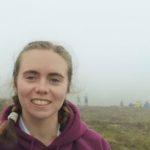 Kelly Sharpe
Scientist ID
Type of scientist:

Earth and Ocean Science student

Degree(s) and where you obtained them:

Currently in Final Year of Earth and Ocean Science in NUI Galway.

Qualifications:

Bachelor of Science in 2021 (hopefully!)

Research/Work History:

: I am working on my final year project which is studying the glacial deposits of Derryloney Drumlin in Silverstrand, Galway.

Current Job:

Undergraduate student

Employer/Lab group:

I am still a student 😊

CE team:

NUI Galway

Volunteering since…

2019

Favourite thing about being a Cell EXPLORER volunteer:

Being able to connect with students and show them how fun and interesting science can be. Also being able to teach students that there is lots of different scientists and anyone can be one if they put their mind to it.

My best tip for extracting DNA:

Take your time going through each step and don't be afraid to ask for help.
Favourite thing to do in science: Going on fieldtrips and learning new things.

About Me: I'm a final year Earth and Ocean Science student who loves reading, playing Mario games and is a bit obsessed with dogs.

Read more

I'm from County Cork and I moved to Galway in 2017 to study in NUI Galway. I love living in Galway and going for walks and swims in Salthill. I always loved physical geography in school so Earth and Ocean science was a perfect fit for me. I love travelling, I went interrailing for 3 weeks in Europe with my friends after the leaving cert, and I've gone to 6 countries throughout college. I like to keep fit by going to the gym, cycling, walking and swimming. I love reading fiction and playing games on my switch. When I'm at home I really enjoy looking after my dog, and listen to podcasts when I bring him for a walk. My favourite TV shows are sitcoms like Friends and The Office and drama like Grey's Anatomy. I spend lots of time watching David Attenborough's documentaries and I really enjoy horror movies!

My Course/Research/Work: I'm in my last year studying Earth and Ocean Science.

Read more

Earth and Ocean Science studies the Earth, how it was formed and what processes affect it. I also study the ocean, how tides work and deep sea features. Specifically, I look at different types of rocks and how they formed, palaeontology and how water flows underground. My course is a combination of biology, physics, chemistry and maths. In the lab I look at rock samples and slides under the microscope, but most of the time my lab is being out in the field looking at features first hand.

I'm working on my final year project which is about glacial deposits of the Derryloney Drumlin in Silverstrand. A drumlin is a feature that was deposited by a glacier during an ice age hundreds of thousands of years ago. It looks like a little hill with one very steep side and one sloping! A glacier is a huge sheet of ice that can be kilometres thick. They pick up lots of soil and boulders when they freeze. When the bottom of the glacier melts from all the pressure of the ice on top, it deposits the stuff inside the ice onto the ground, to create features like drumlins. I'm looking at the different layers of the drumlin to try figure out what type of environment it deposited in.

My Typical Day: Researching, going out into the field, attending lectures and labs

Read more

I usually wake up as late as possible, I love sleeping far too much 😊. I have my breakfast and do some research like reading papers from other scientists for my project. I attend my lectures and labs and usually have a few assignments to work on. A few times a week I go to Silverstrand with two others who are doing the project with me and we have a look at the drumlin to try find interesting hints or clues as to how it formed. I draw sketches, write notes on what I see and sometimes crack bits of rock off for samples with my hammer!. We discuss our different theories and when I get home, I do some reading on what we talked about or found that day. In the evening I make my dinner and watch some TV or play the switch to relax. I try to do some exercise everyday so I go for a walk or do some yoga.

Why did you decide to study science/become a scientist?:

I don't think I ever decided I wanted to be a scientist, it was just always something I was interested in from a young age. I was watching nature documentaries when I was two and my fascination with the natural world developed from there. I loved discovering how the world works and wanted to know more about it.

What part of your own life experience gives you a unique view on your science work?:

I think getting out in nature and playing outside as a child has helped me in science. Exploring gave me practice for fieldwork and looking at insects and animals have given me a curiosity and a thirst for knowledge.

Name 1 thing you struggled with in science and how you overcame it.:

I found it very difficult to read scientific papers in the beginning. They can be very long and have very technical words and phrases. It was very difficult to figure out the information I needed. I just kept practicing by reading lots of papers and looking up the words I was unfamiliar with so I understood what they meant. I learned what sections usually have the key information and read through them very carefully.

Quickfire Q/A questions

State 1 part of your job that requires creativity

I have lots of assignments where I make maps. They can be of different areas or types of bedrock, which is the rock sitting under you that the Earth's crust is made of. I have to be very creative in designing them and making them look as nice as possible. I design nice layouts so whoever is looking at them finds them really interesting!

Give 1 example of how a hobby/personal interest relates to science

I love going for walks and being out in nature. It's like doing fieldwork because you are outside exploring the surrounding area. I'm trying to look for clues in the rocks and structures to figure out how the environment formed.

How would you describe yourself in 3 words?

Friendly, Intuitive, Caring

Who is your favourite singer or band?

Imagine Dragons

What's your favourite food?

Pasta

What is the most fun thing you've done?

Kayaking in Lough Hyne, Co. Cork during a bioluminescent algae bloom. Everytime I disturbed the water with my paddle it looked like there was fireflies in it! I felt like a Disney character.

What did you want to be after you left school?

In Primary School- A Crime Scene Investigator (CSI). In Secondary School- A geologist

Were you ever in trouble at school?

Not really, I only got detention once. I tend to get away with things!

What was your favourite subject at school?

Geography

What's the best thing you've done as a scientist?

Go on a fieldtrip to Antrim with my whole course. It was such good craic spending time together and we all got very close. I also learned more out in the field than I ever did in lectures.

What part(s) of your job makes you happy?

Studying something I love and am really interested in.

What or who inspired you to become a scientist?

David Attenborough, I have been watching his documentaries since I was two! He made me want to understand more about the world and how it formed.

If you weren't a scientist, what would you be?

I would work helping and rescuing animals.

If you had 3 wishes for yourself what would they be? - be honest!

I wish big companies would stop exploiting the Earth, to travel the world and live in a warm country on the beach.

Tell us a joke.

Watson: Holmes! What kind of rock is this! Holmes: Sedimentary, my dear Watson.

My profile link:
https://cellexplorers.imascientist.ie/profile/kellysharpe/
---
---
---